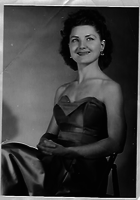 Helen Louise Delaney
Helen Louise Delaney was granted her angel wings on June 13, 2017. Helen was born in Ontario, California on July 1, 1928, during the great depression. She married Paul Delaney in 1949, moved to Thousand Oaks in 1961 and were blessed with two wonderful and caring daughters, Sandee and Cindy. Although Helen was very frail in her final days, she displayed hope and courage and gave her family encouragement to accept her final days with grace and love.
Helen was a good, kind and giving Mom who loved to laugh and spend time with her family.
Helen joins her husband of 68 years in heaven and is survived by her daughter and son-in-law Sandee and John Sandoval, Daughter Cindy Mercer. Grand Children, Steven Mills and his wife Marcia, Stephanie Sandoval-Kahn and her husband Brent, Megan Beckham and her husband Jeremy, Matthew Mercer. Great Grandchildren, Jadyn and Ryder Kahn, Tristan Cameron, Remi, Beau, Riley and Jake Beckham.
Love Leaves A Memory
Those we love don't go away,
They walk beside us every day,
Uneven, unheard, but always near,
Still loved, still missed and very dear.
For death leaves a heartache
No one can heal,
And love leaves a memory
No one can steal.