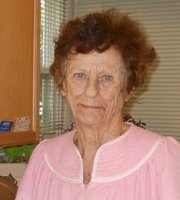 Dorothy Louise Pierce
Dorothy Louise Pierce (Rasmussen), aged 93, passed away on New Year's Day. She predeceased by her siblings, John Rasmussen, Marion Robinson, and Madeline McGalliard, her daughter, Marion Pierce, and the father of her children, Preston Pierce. She is survived by her children, Sandra Meyer (Donald), Charl Isham (James), Mari Logan (Bill Coonfield), Charles Preston Pierce III (Cathy Menifee), Madeline Pierce (Bert Strindberg), 12 grandchildren and 13 great grandchildren, her sister-in-law, June Rasmussen, and many favorite nieces and nephews.
Dorothy was born in New York but spent more than 80 years as a Californian. She played many roles in her long life but her real joy came in the form of service. She loved the times she spent jas the chief cook for the youth groups of her church, and well into her eighties she was always available to cook a meal for a shut in, shuttle her less abled friends on their errands, or just be available for a phone call. She was most proud of her Danish heritage.
Family and friends will gather at Emmanuel Lutheran Church in North Hollywood on Wednesday, January 9th at 11am.
In lieu of flowers please consider a donation to the Emmanuel Lutheran Church, 8020 Radford Avenue, North Hollywood, CA 91606.