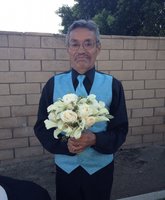 Alex Hernandez
Alex Hernandez, 67, of West Hollywood, CA, born in Los Angeles on December 18, 1952, passed away in Canoga Park, CA on August 25, 2020.
Alex grew up in Canoga Park and graduated from Canoga Park High School in 1971. He worked at Phil's Deli at the Farmer's Market on 3rd and Fairfax for more than 20 years. He enjoyed traveling throughout California, Arizona, and New York and loved photography and enjoyed taking pictures of people and places he had visited. He also enjoyed spending time with family and friends and loved to joke and laugh. He always stayed positive and enjoyed life to the fullest.
He is survived by his brothers; Robert Hernandez, Richard Hernandez, Joseph Hernandez, and Arthur Hernandez and sisters; Susan Acosta, Sandra Gibson, and Betty Frymire. He is also survived by eleven Nieces and Nephews; twenty Great Nieces and Nephews; and one Great-Great Niece and extended family.
He is preceded in death by his father, Guadalupe G. Hernandez; mother, Betty L. Hernandez; brothers Anthony Hernandez and Michael Hernandez.
Visitation will be held at Rose Family Funeral Home on Thursday, September 3, 2020 from 5 pm – 9 pm with Pastor Juan Diaz.
Internment at Oakwood Memorial Park on Friday, September 11, 2020 at 11am.
The family wishes to extend their gratitude to everyone who has sent flowers, Facebook messages, text messages, and phone calls. We all are truly blessed by your love and support.