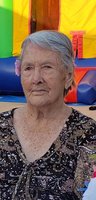 Maria Rebeca Cabadas
May 30, 1929 - September 2, 2020
Born in Jalisco, Mexico
Psalms 23
Maria Rebeca is now in the arms of her daughter, Guillermina Magaña, who passed away in 1993.
Maria Rebeca is survived by her husband, Agustin Magaña, and her children, Francisco Magaña, Yolanda Martinez, Hilda Orellana, Jose Magaña, and Ana Magaña.
She is also survived by her grandchildren, Maggie Galindo, Carlos Andrade, Ana Martinez, Becky Magaña, Hector Orellana, Christian Andrade, Melanie Orellana, Rosy Magaña, Armando Magaña, Guillermina Magaña, Belem Magaña, Humberto Chuc, Alejandro Chuc, Joseline Magaña and Erik Chuc.
Lastly, she is survived by her great-grandchildren, Micah Galindo, Derek Orellana, AJ Garrett, Brielle Orellana, Luke Galindo, Grace Garrett, James Galindo, Kaley Orellana, and Noah Andrade.
She will forever be in our hearts.