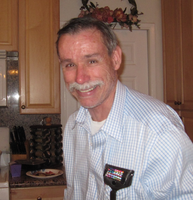 Christopher Matthews
Christopher (Chris) Matthews, 67, of Simi Valley, CA, passed away on February 9, 2021 at his home.
Christopher was born in Van Nuys CA to Earl and Margaret Matthews on February 19, 1953. He attended high school at Simi Valley High School and graduated in 1971. Shortly after, he set off to serve his country in the United States Navy and was active duty during the Vietnam era. Chris then worked at Micom for 10 years as a stock clerk. He met and married his soulmate Julia Matthews in June 1994 and spent his golden years playing board games with family and friends, caring for his beloved doggies (Brewser and Paloma), and finding new ways to repurpose items as a hobby. He also loved bible study and attending church.
Christopher is survived by his sister Katherine and Wayne Moorman, of Riverton, WY, brothers Timothy Matthews, Michael and Angela Matthews, niece Melanie, step-daughters Katherine and Joshua Velez, Anita and Michael Barratta of Simi Valley, CA, 8 step-grandchildren, 20 great grandchildren and 3 great-great grandchildren.
He is preceded in death by his wife Julia P. Matthews, parents Earl and Margaret Matthews, and step daughter Marie Aragon.
Chris was a part of our family for 25 years. He was our Mr. Gadget, and was always laughing and sharing stories. He will be missed. Rest In Peace, Chris.