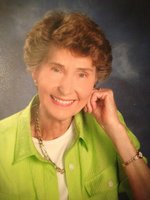 Marilyn Batelaan
Marilyn Louise "Nana" Batelaan
Marilyn Louise Batelaan passed away peacefully at home into the arms of Jesus on March 22, 2021. She was born on December 24, 1931 in Merced, CA to Merrill A. Henry and Eleanor Adelle Pavelko. She graduated from Covina High School in 1949 and was married later that year in El Monte, CA to the love of her life, Robert R. Batelaan. They were happily married for 55 years before Bob died in 2004. They moved to Ventura in 1958 with Bob's employer, W. L. Rubottom Co. She was a devoted stay-at-home mom for many years until her daughters were in middle and high school. She then went to work as an office manager for Lumbleau Real Estate School. She worked there several years and then joined her husband at W. L. Rubottom Company as a part-time bookkeeper. After she retired, she stayed home to help take care of her grandkids. Many of them have fond memories of sitting on her lap in her rocking chair as she read to them.
Marilyn and Bob loved to travel all over the world with their good friends, Bob and Dottie Ingrum. They also were well known for their green thumbs and care of their rose garden. They even took charge of the rose garden at their church, Ventura First Baptist (Coastline Bible Church), which they were members of from the time they moved to Ventura. Marilyn was fondly referred to at church as The Roselady. Their neighbors all appreciated the beauty of their roses as well. Many may remember Marilynn from her daily walks through the neighborhood with her friend, Mary Johnston.
Over the years Marilyn helped many non family members whenever she saw a need. There were times when she would grocery shop for multiple families besides her own and visit friends in assisted living homes. She lovingly took care of her own mom until she passed away in 2003.
Marilyn was predeceased by her husband, Bob, her son-in-law, Allen Hawthorne, grandson, Josh Hawthorne, her parents, and brother and sister-in-law, Don and Margret Henry. She is survived by her two daughters Dené Hawthorne and Dana (Jack) Clayton, granddaughters Rachel (Erick Meeks) Hawthorne, Sarah (Abel) Morales, Ashley (Jason) Stutzman, and Courtney (Jonathan) Runge. She is also survived by her great-grandchildren Jayden, Chaz, Zachary, Jocelyn, Ryan, Natalie, Abel, Henry and Eleanor. She also leaves behind, her favorite nephew David Henry, and his family Kas, Olivia and Jamie and her "3rd daughter", Meg Garstang.
Our family would like to express our deepest gratitude and thanks to the four angels, Delilah, Holly, Lyubov and Renee, who lovingly cared for Mom/Nana/Grandnana the last several months of her life. A special thanks to Assisted Hospice, and Nurse Jen. We'd also like to thank our family friend, Julio, who enjoyed watching Jeopardy and eating ice cream with Mom, and her beloved neighbors, RJ and Melinda, who faithfully walked her dog Barney and visited daily and Trish who tended to her rose garden this past year.
In lieu of flowers, please consider a donation in her memory, to Ventura Young Life, 8180 Telephone Road, Ventura, CA 93004; Teen Challenge, teenchallenge.org/donate; or The Norah Foundation, thenorahfoundation.org. A private graveside service will be held at a later date.
Arrangements are under the direction of Rose Family Funeral Home, Simi Valley. Thank you Jennifer and associates, for the compassionate, loving care of our Mom.