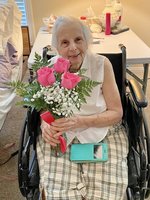 Valerie Mae Thompson
Valerie Mae Thompson, 84, of Simi Valley, CA, passed away peacefully at home, surrounded by family and friends, on Friday, July 2, 2021, following a long battle with stage 4 ovarian cancer. Graveside service and burial will be held at Bakersfield National Cemetery in Arvin, CA.
Valerie was born in Lampasas, Texas to Helen Arthur Lanza and Frank Lanza on April 11, 1937. She went to Lakeville High School in Lakeville, Indiana, and graduated in 1954. She married her husband, Gilbert Thompson, in 1968 and they moved around the western US several times before settling in Simi Valley, CA, in 1987. Before she retired, she worked as a Medical Transcriptionist for a local hospital for 15 years. She enjoyed traveling around the United States, listening to music, playing board games, and spending time with her family. She also loved and cared for many pets throughout her life.
Valerie is survived by her husband of 53 years, Gilbert Thompson of Simi Valley; daughter-in-law Olga Thompson of Simi Valley; and her two granddaughters, Sarah Thompson of Simi Valley, and Jessica Dobbs (Glenn) of Dallas, TX. She is preceded in death by her parents and her son, Michael Thompson.