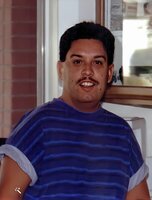 Gregory John Morales
Gregory John Morales, 57, of Chatsworth, California, passed away on November 6, 2021.
Funeral service will be held at St. Rose of Lima on November 19, 2021 at 10:00 a.m. with Father Joseph Shea officiating. Burial will follow at Assumption Catholic Cemetery. Visitation will be held at Rose Family Mortuary on November 18 at 5:00 p.m. Rosary will be said at 7:00 p.m.
Gregory was born in Hollywood, California to Gerald Anthony Morales and Martha Morales on February 13, 1964. He went to high school at Royal High School and studied art at West Valley Occupation Center.
Gregory is survived by his mother Martha Morales, sister Kathleen Morales Alfe and brother-in-law Andrew Alfe, brother Jerry Morales and sister-in-law Andrea Morales, sister Kristin Morales and sister-in-law Annette Falardeau, niece Lisette Alfe, nephews Michael Alfe and Rocky Morales, and great-niece Brandy Bauman. He is preceded in death by his father Gerald Anthony Morales.