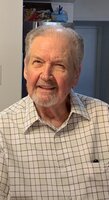 Gerald David Jessee
Gerald "Jerry" David Jessee passed away peacefully in his sleep at his home in Simi Valley on May 6, 2022, just shy of his 85th birthday. He was born May 13, 1937 in Detroit Michigan to his Father, Beecher Jessee and Mother, Madeline (Fortin) Jessee.
Gerald graduated from Saint Clement High School, in Center Line Michigan in 1955. Following graduation, he served in the United States Army from 1955-1961. After his service in the Army, he met and married Adda Hartsock in 1963. They moved from Michigan and settled in California. They would have celebrated 59 years of marriage in September. He worked at Web Service Company specializing in coin operated machines for hospitals, hotels and universities. He worked his way up to a Managerial position and retired after 32 years with Web.
Jerry was a member of the Early Birds T-Bird car club and even served as president in 1977. He loved to fish and he was an avid golfer until he turned 80. He also enjoyed watching sports on television, especially his favorite college football team, USC. He traveled all over the United States for many years with his wife Adda. They enjoyed visiting family in Pennsylvania and Michigan.
He is survived by his wife, Adda Jessee, and his children William McNally, Micki Page and her husband Tim Page. He is also survived by his four grandchildren, Michelle Corderman, Scott Page, Kelsey McNally, and Megan McNally along with his three great grandchildren Colton, Caden, and Jaxson.
A Service of Remembrance will be held at 11:30 am Friday, July 29, 2022 at Rose Family Funeral Home at, 4444 Cochran Street, Simi Valley, CA, 93063