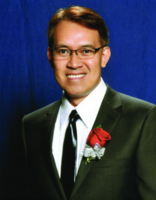 Joven V. Cumpio
Joven Valenzuela Cumpio, dedicated husband, father of two, and friend of many – passed away on October 17, 2022, at the age of 56 in Porter Ranch, California.
Joven was born in Manila, Philippines to Francisco Cumpio and Edna Valenzuela on August 22, 1966. He graduated from Trinity College with a Bachelor's Degree in Medical Technology. During his college days, he met his wife Cecile and was blessed with two daughters Franchesca in 2003 and Amanda in 2012. Joven and Cecile celebrated their renewal of vows for 25 years last September of 2022.
Joven worked at Kaiser Permanente for 21 years and was a Lead Technologist in the Virology Department. He received the "Award for Excellence" given by Southern California Permanente Medical Group and contributed to various publications in Research and Development projects.
He enjoyed singing, watching movies, fishing, and traveling with his family. Usually involves himself with a Red Cross blood drive.
Joven is survived by his wife Cecile and daughters Franchesca and Amanda, his brother Joel and family, his parents Francisco and Edna, and grandchildren.
Memorial services will be held at Rose Funeral Home followed by interment at Assumption Catholic Cemetery in Simi Valley, California..