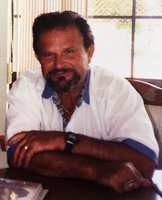 Aldo Zecca
Our father Aldo Zecca has joined the love of his life Grace in heaven. Aldo, 88 of Simi Valley, CA, passed away peacefully on January 10, 2018, surrounded by family in Thousand Oaks, CA.
Memorial service will be held at Rose Family Funeral Home on Thursday January 18, 2018 at 10:00 am. Burial will follow at Assumption Cemetery and Mausoleum, 1380 Fitzgerald Rd., Simi Valley, CA. A celebration of his life will follow at Rose Family Funeral Home.
Aldo was born in S. Marco Argentano Cosenza, Italy, on August 17, 1929, to the late Paul and Amalia Zecca. Aldo was 6 years old when he came to America from Italy to Ellis Island, and made his home in Chicago, Illinois. He worked as a meat cutter and owned his own grocery store. He was introduced to a beautiful Italian girl, Graciella Falzone through mutual friends, fell in love, and married in 1954. Al's sister lived in California, all it took was one trip away from the snow and they fell in love with it. In 1963 they packed up, moved and never looked back.
Al was a jack of all trades, and a perfectionist at everything he set out to do. He served in the Army Corps of Engineers during the Korean War in Fort Polk, LA. A butcher by trade for 40 plus years, a part-time Real Estate Agent, and volunteered with the Citizen's Patrol in his retirement. He loved to garden and produced an abundance of fruits and vegetables. He manicured his yard to perfection, modeling his bushes into animal creations, making news in the Simi Valley newspaper as "The Bush Man". He also was an artist with wood sculpturing.
Aldo is survived by his daughters Linda Cochran (Chris), of Simi Valley, CA, Debra Nine-Gilmore (Joe), of Las Vegas, NV, sister Elvira Lucchese of Simi Valley, CA , grandchildren Eric Nine II, of Ft. Mitchell, KY, Matthew Brown, of Ojai, CA, Lindsay Cochran (Jake Berry) of Simi Valley, CA., Nicholas Cochran of Simi Valley, CA., great granddaughter Addison Nine, of Ft. Mitchell, KY, and many nieces and nephews. He is preceded in death by his wife Grace Zecca, mother Amalia Zecca , father Paul Zecca and brother, Sebastian Zecca.
The family wishes to extend their gratitude to our many friends and family for their condolences, kindness, prayers, love and support.