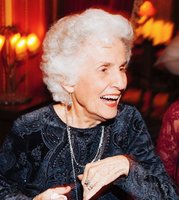 Louise Sophia Roe
This is not an obituary, but a celebration of the life of Louise Sophia Roe, 90 years of
age, of Thousand Oaks, CA who lived her life the way we all hopefully aspire to. She
was content with her life, her faith and filled with love from a vast number of family and
friends.

She was born on June 20, 1927 northwest of Lexington, Nebraska where she spent the
early years of her life living on the family farm. Louise was one of seven children born
to William Fagot and Mary (Gillette) Fagot. She received her education from Lexington
High School with the class of 1944, and in 1945 was united in marriage to Gerald James
Roe.

Throughout the years, Jerry and Louise resided in Nebraska raising their four children
and in 1982 retired to Fairfield Bay, Arkansas. Louise was preceded in death by her
husband Jerry of 45 years. She continued living in Arkansas until 2015 when she moved
to Thousand Oaks to be closer to her family.

Louise was a loving wife, mother, grandmother, great-grandmother and friend. She
enjoyed participating in volunteer work with the Catholic Church and various other
organizations, playing cards and board games, and visiting family and friends. Her sense
of humor, love of a good joke, and her interest in meeting people and making them feel
comfortable in her presence were her special gifts.

Besides her husband and parents, she was preceded in death by her son, Michael; four
brothers; Lewis, Warren, Alfred, and Donald, and two sisters; Ethel and Evelyn.
Those who are left to celebrate her life are her daughter Karen Kirby and her husband
Larry of Woodland Hills, CA; son Bill Roe and his wife Kathy of Avon, CO; and
daughter Marti Ogle and her husband Steve of Phoenix, AZ. She is also survived by
eight grandchildren, five great-grandchildren and sisters-in- law Naomi Fagot of
Lexington, NE and Marilyn Fagot of Manhattan, KS.

A memorial Mass will be held on Thursday, February 8 at 10:30 a.m. at St. Paschal
Baylon Church, 155 E. Janss Road, in Thousand Oaks, CA.

The family asks that in lieu of flowers, memorial donations may be offered to St. Francis
Catholic Church, 250 Woodlawn Drive, Fairfield Bay, AZ 72088.