15501 W. San Fernando Mission Blvd, Suite B105 | Mission Hills, California, 91345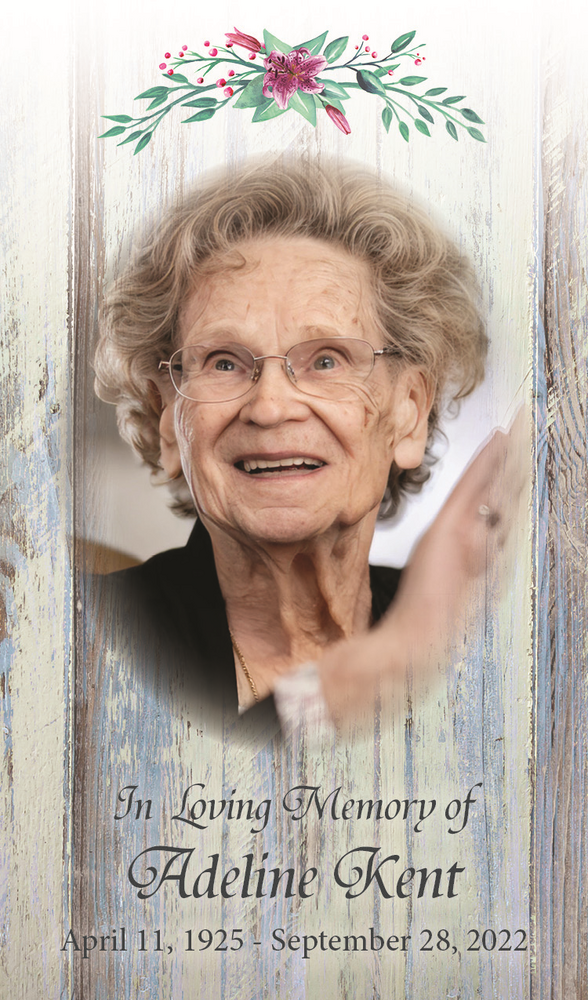 Obituary of Adeline Wanda Kent
Adeline Wanda Kent "Addie" (Buczkowski) peacefully passed away from natural causes at the young age of 97 at home with family, while under hospice care on 9/28/2022 in Newbury Park, Ca.
Our beloved mother, Nana, grandmother, great-grandmother, great-great grandmother, wife, sister, daughter our "Rock" our "Supermom" has left this world to be in a better place and be reunited with her husband Robert R. Kent Sr. THANK YOU We Love You!
Adeline was born in Hammond, Indiana to the parents of John and Wanda Buczkowski on April 11, 1925. She grew up in Whiting, Indiana and graduated from Whiting High School in 1944. After considering a career as a Catholic nun, she met the love of her life Robert (ironically he was considering priesthood!) and they were married on June 26, 1948. They moved to Lansing, Illinois in 1952 and started a small family of 10 children. In 1964, they loaded up the family and moved to Woodland Hills, California and eventually settled in Thousand Oaks in 1966 where they spent the rest of their natural lives. Mom was a stay at home mom until 1967 when she went to work as Office Clerk/Cashier at Los Robles Hospital where she worked for the next 25 years. After retiring they downsized and moved to Vallecito Mobile Home Park where she has called home since 2004.
Adeline is survived by her children Kathy, Bob Jr, Tom, John, Rick, Joe, Mary, Jim and Bill as well as her 27 grandchildren, 26 great-grandchildren and 4 great-great grandchildren. She was preceded in death by her parents John and Wanda Buczkowski, her husband Robert R. Kent Sr., brother Eugene Buczkowski, her son Donald, granddaughter Brenda, and daughter in-law Patty.
Funeral services are as follows: Visitation at Rose Family Funeral Home 4444 Cochran St Simi Valley on 10/4/2022 from 5-9 P.M. Catholic Church Mass St. Paschal Baylon Church 155 E. Janss Rd Thousand Oaks 10/5/2022 at 10:30 a.m. with graveside services at Assumption Cemetery 1380 Fitzgerald St. Simi Valley. There will be a celebration of her life reception immediately after, to Cronies from 1-3pm located at 1620 Newbury rd, Newbury Park. Lunch on us so please join us for an outside patio celebration to honor Mom!
Memorial donations may be made to American Cancer Society, Hospice Care or Wounded Warriors. The family wishes to extend their gratitude to Mary Health of the Sick, Assisted Living Hospice, and Rose Family Funeral Home.
Share Your Memory of
Adeline