15501 W. San Fernando Mission Blvd, Suite B105 | Mission Hills, California, 91345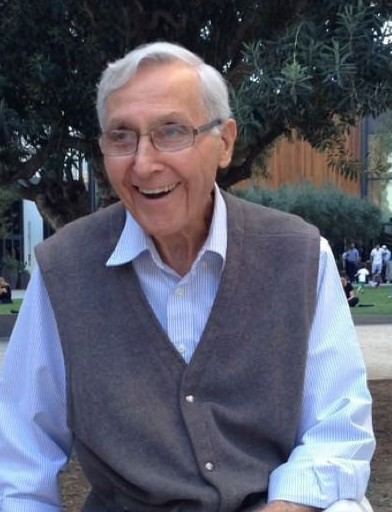 Memorial Mass
11:00 am - 12:00 pm
Saturday, September 9, 2023
St Bernardine Catholic Church
24410 Calvert St
Woodland Hills, California, United States

Get Directions
Interment and Naval Honor Squad
11:00 am - 12:00 pm
Monday, September 11, 2023
Los Angeles National Cemetary
950 S Sepulveda Blvd
Los Angeles, California, United States
(310) 268-4675

Get Directions
Obituary of Donald M. Absey
Don Absey passed away peacefully at home and surrounded by his family on July 23, 2023. Until just a few weeks before his death, Don was still living independently—we are grateful that he went out "with his boots on" as he always wanted.
Born in Bellerose, Long Island on January 18, 1929 to Ghattas & Sophia (née McPherson) Absey, Don spent his childhood years studying hard, having fun with his friends, and enjoying time with his beloved sister Yvonne and their terrier, Mike. After losing his father at a young age, Don's uncle James McPherson became a lifelong support and mentor. Don had many stories of his adventures as a young boy, and developed a bond with his sister that they shared throughout their lives.
Don's family moved to New York City, and he spent his high school years as a boarding student at Cardinal Farley Military Academy in Rhinebeck, NY, where he made lifelong friends. Before the family moved to California in 1947, Don's mother made sure he and his sister saw many Broadway and off-Broadway shows that were running at the time, inspiring Don's lifelong love of the theater. Don and Yvonne both had fond memories of the adventures they had as teenagers on their cross-country train trip to California.
Don's college years were split between Santa Clara University (where he played a lot of Hearts and talked his way into the ROTC band without any experience) and UCLA, where he became a lifelong Bruin fan.
Upon his graduation from UCLA, Don enlisted with the US Navy and trained as a fighter pilot on aircraft carriers, with a focus on night flying. He always felt particularly proud and grateful that he got to fly both the F6 Hellcat, a WWII fighter plane, and the Banshee, a first-generation fighter jet used in the Korean War. He said his generation of Naval fighter pilots was the luckiest. Don flew off of the USS Oriskany and enjoyed two particular distinctions—he was the 25,000th landing on the Oriskany and was presented with a huge sheet cake with his name on it at dinner one night in the mess hall. And before the Oriskany was decommissioned, he was the second-to-last landing on the ship. Don took such pride in these two milestones from his time in the Navy and loved to tell stories about each.
Don married Patricia Jean Carroll in June 1954 and they had five children together. They were devoted to each other and their children and created a lively and loving household. Don & Pat loved to travel, attend the theater, and spend time with their large family and their many friends. They particularly loved a competitive game of Dominoes, Killer, or Acey Ducey. Don & Pat supported their church throughout their lives, including co-leading (with some of their dearest friends) a youth group to inspire young people in their faith. Until his last days, Don was dedicated to his wife Pat, and they enjoyed 69 years together before his passing.
Professionally, Don worked as a pension consultant and actuary—helping his clients support their employees and plan for their futures. His middle years meant a new chapter for Don, and he took up aerobatic flying and became a reserve police officer with the South Pasadena Police Department, where he served with pride for many years.
One of the great loves of Don's life was the Ronald Reagan Presidential Library. He served as a docent there starting in 2010 and showed up every week until the end of his life. Don surpassed 2,500 hours of service to the Library, never ceasing to be inspired by Ronald Reagan and by everything he learned over the years working his regular Wednesday morning shift. He made wonderful friends among the other docents, and coffee time together after their shift was a highlight of his week. One of Don's other great pleasures at the Library was acting as a tour guide for 4th & 5th grade classes, and he loved to tell stories about the students, their endless questions, and the funny comments they often made. He treasured his time with them each week.
Don was a lively storyteller and loved to captivate a group with a funny tale. He was endlessly curious, fiercely independent, a voracious reader, and an incredible husband, father, grandfather, great-grandfather, uncle, and friend. He will be missed by all who knew him.
Don's great spirit lives on in his beloved wife Patricia; his five children and their spouses: Anne, Jennifer (Craig), Michael, Monica (Brian), and Julie (Roy); his five grandchildren and their spouses: Genevieve (Bonnie), Alena (Ricky), Danielle (John), Matthew, and Olivia; his five great-grandchildren Zaiden, Frankie Mae, Peter, Clara, and Madelyn; as well as his nieces and nephews.
SERVICES:
Memorial Mass at 11am on Saturday, September 9, 2023
St. Bernadine of Siena Catholic Church
24410 Calvert Street, Woodland Hills CA
Interment and Naval Honor Squad will be promptly at 11am on Monday, September 11, 2023
Los Angeles National Cemetery
950 S. Sepulveda Blvd, Los Angeles, CA
In lieu of flowers, donations in Don's memory can be made to:
The Ronald Reagan Presidential Library
You may honor Don by making a donation to the Ronald Reagan Presidential Foundation and Institute, where he joyfully served as a docent for 13 years.
Mail checks to: Ronald Reagan Presidential Foundation
40 Presidential Drive, Simi Valley, 93065
Please note "In Memory of Don Absey" on your donation
Online donations: https://www.reaganfoundation.org/
Click on the Donate link on the upper right corner
Once on the donation page, click the box marked "In honor or memory of someone" to include Don's name
The West Valley Playhouse
You may also honor Don by supporting his lifelong passion for live theater. He and Pat were proud patrons of the West Valley Playhouse for years.
Mail checks to: West Valley Playhouse
5082 Llano Drive, Woodland Hills, CA 91364
Please note "In Memory of Don Absey" on your check
Online donations: https://www.wvplayhouse.com/donate.html
Please put "In Memory of Don Absey" in the Remarks Section
Share Your Memory of
Donald